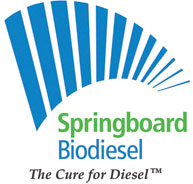 A state grant is helping a small-scale biodiesel processor manufacturer start a local biodiesel buyers club. Springboard Biodiesel, which was a recent recipient of a grant from the California Energy Commission (CEC), is using that money to build a new and larger biodiesel production facility in Chico, Calif. and sell the fuel to local buyers.
"With the help of the CEC and countless organizations in and around Butte County, Springboard is ready to produce ASTM-grade biodiesel in its new, state-of-the-art facility and enable businesses and individuals to enjoy the many benefits of burning biodiesel," said Springboard CEO Mark Roberts. "While our target market will remain primarily local, corporate and municipal consumers of diesel, who want to incorporate biodiesel into their fleets, we wanted to compliment that with a local buyers club."
Springboard will not have a traditional pump and go system, per the filling-station model, but will offer biodiesel club members the opportunity to buy quality biodiesel at competitive prices in prepared volumes of 10, 55 and 275 gallons.
The Company has long been recognized as a leader in the small-scale biodiesel production market, having sold almost 1,000 automated BioPro™ systems (50-100 gallon batch processors) throughout the US and internationally. Springboard intends this new, larger production system to create a complimentary market opportunity. "We believe that producing locally and consuming locally is a sustainable and profitable energy model that will benefit the local communities where our systems are located," says Roberts. "Ultimately, we plan to build a broad network of these 'micro-facilities', all of which are designed to provide competitively priced, cleaner burning biodiesel to local communities that have a natural and more easily accessible feedstock"
The new facility in Chico will be able to produce up to 350,000 gallons a year. Check out their website, www.springboardbiodiesel.com/buyers-club, for more information.