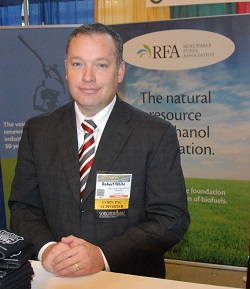 It might not be a biofuels convention per se, but the recently completed Commodity Classic in San Antonio attracted lots of producers and advocates for the green fuels. Previously, I talked to Joe Jobe from the National Biodiesel Board about his group's participation in the annual meeting of corn, wheat, soybean and sorghum growers. At the booth next door was another group in the biofuels game, the Renewable Fuels Association, representing the ethanol industry. RFA's Director of Market Development Robert White said that they're glad to come out and talk with the thousands of corn farmers attending who are a big part of the main feedstock for ethanol and invest heavily themselves in the industry.
"It's a good place for us to be. It's actually nice to go into a friendly environment every once in a while," he said.
Of course, the biggest thing they heard at the event was the concerns over the Environmental Protection Agency's (EPA) proposal to cut a billion gallons of ethanol from the Renewable Volume Obligations, the amount of ethanol required to be blended into the Nation's fuel supply. Robert said they need to counter some of the myths that petroleum companies are trying to spread with fact-based arguments in favor of ethanol.
"And it has to be strategic, because if the opposition to the [Renewable Fuels Standard] is a fire hose, we're a dripping faucet, and we have to make sure it's a strategic approach and it's fact-based because if we got caught stretching the truth, they'd never forget it," he said.
Robert went on to say that despite the comment period for the EPA being over, it's important to keep letting Washington know where ethanol and all biofuels proponents stand.
"Don't become complacent. Keep reaching out to elected officials, EPA and the White House to make sure they know how important this is to individual farming operations and rural America."
Listen to my interview with Robert here: Robert White, RFA
2014 Commodity Classic Photos