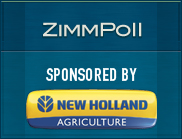 Our latest ZimmPoll asked the question, "What do you think about Chipotle's Farmed & Dangerous?"
An overwhelming majority said they have boycotted Chipotle and I am proud to say I fit into that majority. I also believe Chipotle should be ashamed and have decided I don't need to watch their recent stunt to know they are bad news. Thank you to those in the agricultural community who have made a stand against this restaurant giant and joined the fight to tell agriculture's story.
Our poll results:
Chipotle should be ashamed – 25%
Hilarious – Lighten up! – 6%
Thought provoking – 4%
Refuse to see it – 6%
Will never eat at Chipotle – 47%
Never heard of it – 12%
Our new ZimmPoll is now live and asks the question, "What's your favorite fish?"
Today is Ash Wednesday and the first day of Lent. Many across the country are giving up something beloved to them in the 40 days leading up to Easter and reframing from meat on Friday's. In honor of that we want to know what's your favorite way to prepare fish.