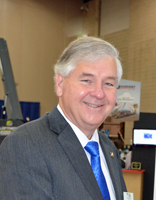 Soybean growers attending the recent Commodity Classic see the government's proposal to cut biodiesel and the expiration of the federal biodiesel tax credit as their top priorities to take on this year. At a news conference at the annual meeting of corn, soybean, wheat and sorghum growers in San Antonio, American Soybean Association (ASA) Chairman Danny Murphy, a grower from Mississippi, said their first priority is to get the Environmental Protection Agency (EPA) to reverse its proposal that would effectively cut in half the amount of biodiesel to be required to be blended into the Nation's fuel supply.
"We have asked our soybean farmers to make comments, and we've had hundreds of farmers express their concern to EPA about the proposed level and what it would do to the capability and potential of the biodiesel industry," he said. "These proposed regulations would reduce the production over the next year or two and really stifle the growth in a really valuable market for soybean farmers."
In a separate interview with Cindy, Danny said, based on what he's heard from EPA Administrator Gina McCarthy, the folks at EPA might be having some second thoughts about their own proposal. "So we hope that means they'll make some changes and allow this biodiesel industry to grow," he said.
He added ASA supports the extension of the $1-a-gallon federal tax credit for biodiesel, which expired at the end of December. He believes it could be reinstated as part of a tax extenders package, but he would also be happy to see the stand-alone legislation proposed by Sens. Chuck Grassley (R-IA) and Maria Cantwell (D-WA) get passed.
Listen to Danny's portion of the ASA news conference here: American Soybean Association Chairman Danny Murphy
2014 Commodity Classic Photos