Syngenta has released a new documentary video entitled "Ethanol: Fueling Rural America's Future – One Community at a Time." According to the company, the video provides a platform for farmers, ethanol producers and industry advocates to share their passion for an industry critical to the future of agriculture and rural America.
Syngenta developed the video to reinforce the ethanol industry's positive impact on the U.S. economy and American energy independence. The company says ethanol production is a vital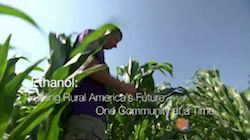 contributor to the national Gross Domestic Product, federal tax revenues, and the creation and support of new jobs across the country.
"As ethanol plants have moved into small towns and established their businesses, they have provided well-paying jobs and stabilized the corn market price," said Jack Bernens, head of marketing and stakeholder relations for Syngenta. "That income is circulating back through rural communities. With the Renewable Fuel Standard (RFS) under scrutiny, we wanted to help tell that story."
Ethanol is also helping consumers. A University of Wisconsin/Iowa State University study found that in 2011 ethanol reduced wholesale gasoline prices by $1.09 per gallon nationally. Looking ahead to the adoption of blends with an ethanol level greater than E10, Growth Energy reports that the more than 170 million cars manufactured since 2001 are currently eligible to use E15, while more than 16 million flex-fuel vehicles are on the roads today.
"This demonstrates that there is a market ready for a less expensive, higher octane, more environmentally friendly alternative fuel," added David Witherspoon, head of renewable fuels for Syngenta. "We have the vehicles capable of using blends higher than E10, but greater access to stations capable of providing it and the petroleum marketing industry's support are needed to make that access a reality."