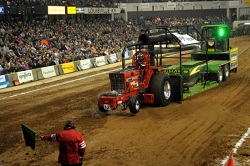 The power of biodiesel will be on display next weekend for tractor pull fans in Delaware. According to this story on CapeGazette.com, those attending the very first Delmarva Tractor Pullers Association Super Pull next Saturday and Sunday at the Delaware State Fairgrounds in Harrington will feel that biodiesel power rumble deep in their chests.
"The Delaware Soybean Board is proud to partner with the Delmarva Tractor Pullers Association by providing biodiesel fuel for featured farm equipment and vehicles during the event," said Travis Hastings, chairman of the Delaware Soybean Board. "This is the perfect venue to show that biodiesel is a powerful product with absolutely no compromise in performance."
"A majority of the pullers are farmers. So by fueling their equipment on biodiesel, they're using a product they possibly made," said Jay Baxter, soybean farmer, charter member of the Delmarva Tractor Pullers Association and vice chairman of the Delaware Soybean Board.
Baxter and other soybean farmers pay a small assessment called a checkoff when they sell their soybeans. The checkoff, administered in Delaware by the Delaware Soybean Board and nationally by the United Soybean Board, is sponsoring the use of biodiesel at the Super Pull. The soybean checkoff helped develop biodiesel and supports marketing of biodiesel as a way to increase demand for soy.
There'll be five divisions and 39 classes of pullers participating.