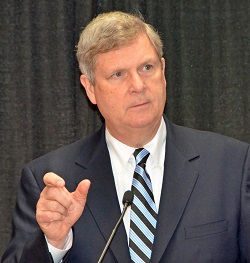 Ag Secretary Tom Vilsack says his discussions with his counterpart at the Environmental Protection Agency don't focus on the message that biodiesel and ethanol advocates are already pushing: abandoning the current proposal that would cut the amount of biofuels mixed into the Nation's fuel supply.
"I'm looking for ways to help this industry, regardless of what EPA does," Vilsack told a group of reporters gathered at Commodity Classic, the annual meeting of corn, soybean, wheat and sorghum growers in San Antonio. While pointing out that he has been a long-time supporter of biofuels, he said it doesn't make sense to repeat what EPA administrator Gina McCarthy is already hearing in the thousands of comments her agency has received. Vilsack believes a great way forward is marketing ethanol and biodiesel as exports. "Our team has put together a plan to expand trade promotion on biofuels by including biofuels folks on a new trip to China," as well as planned pitches to India and Japan.
Vilsack added they can also address infrastructure issues to make sure that is not a barrier to getting more biofuels into the system. He sees making sure biodiesel and ethanol are successful as matters of national security importance, environmental concern, and economic interest. He just wants to make sure his Cabinet colleague has all the information he can provide her.
"Bottom line is: we're going to continue to help this industry as best we can, advocate for it, and trust that EPA at the end of the day makes the right set of decisions."
Listen to his remarks here: Vilsack Talks RFS at Commodity Classic
2014 Commodity Classic Photos