As California battles the worst drought the state has seen in centuries, calls for climate action are heating up. During the U.S. Climate Leadership Conference taking place this week in San Diego, California, more than a dozen businesses including Apple, SolarCity, San Diego International Airport, Sapphire Energy and Sungevity signed the Climate Declaration. The declaration urges federal and state policymakers to "seize the economic opportunity of addressing climate change".
Launched last year by Ceres, a nonprofit sustainability advocacy organization, and its business network, Business for Innovative Climate & Energy Policy (BICEP), the Climate Declaration has more than 700 signatories nationwide. The California signatories have added their own special message to the declaration for Washington: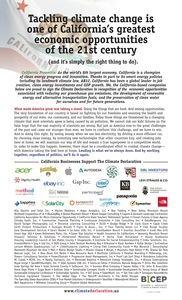 "As the world's 8th largest economy, California is a champion of clean energy progress and innovation," states the declaration. "Thanks in part to its smart energy policies including its landmark climate law, AB32, California has been a global leader in job creation, clean energy investments and GDP growth."
In 2012, California supported more than 43,700 jobs in the solar industry (one-third of all solar jobs in the U.S.) and more than 7,000 jobs in the wind industry. In 2013, the state doubled its solar rooftop installations, from 1,000 megawatts to 2,000 megawatts. It also ranks 48th in the country in per capita energy consumption, due in part to the state's strong energy efficiency programs.
"The 140 plus California companies which have signed the Climate Declaration see the financial upside of tackling climate change today, both for their own bottom lines and the overall economy," said Anne Kelly, director of policy and BICEP at Ceres. "We welcome them, invite others to come on board and applaud the state of California for its bold steadfast leadership on climate and energy policy."
Among those is Sungevity, a Bay-Area based solar provider whose workforce has grown from four to about 400 since 2007. The company has operations in nine U.S. states, the District of Columbia, Europe and Australia, and its global network of customers has offset over 100 million pounds of carbon emissions to date.
"Actively addressing climate change is the biggest economic opportunity of our time," said Danny Kennedy, co-founder of Sungevity and author of Rooftop Revolution, How to Save Our Economy – and Our Planet – from Dirty Energy. "Sungevity's rapid growth is proof positive that the solar service sector can spur the economy with high-paying jobs that cannot be easily off-shored, particularly in sales, service and maintenance."
Beyond signing the declaration, or taking their own steps to become more sustainable, many of the company signatories are engaging further with policy makers. Seventy percent of the major company signatories (those with over $100 million in annual revenues) have expressed their views on the need for climate policy by lobbying on Capitol Hill, sending a letter, and/or engaging with the public through social media.