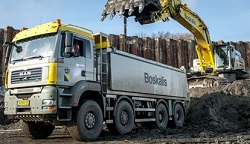 A Netherlands-based company in the construction and maritime infrastructure maintenance businesses will use biodiesel from a company used to fueling things a bit higher above the ground. Royal Boskalis Westminster N.V. (Boskalis) reached an agreement with SkyNRG, a supplier of renewable, sustainable aviation fuel, to provide about 65,000 gallons of biodiesel for Boskalis trucks.
The pilot is consistent with Boskalis' efforts to reduce energy consumption and carbon emissions. If the pilot proves successful, a pilot on board of one of the Boskalis ships will be contemplated.
In line with the WWF's 2050 Energy Vision SkyNRG only produces and distributes biodiesel for segments where no better alternative is available. The origin of the sustainable fuel means that it does not compete with the food chain and has no negative impact on biodiversity.
"The partnership with Boskalis will help us in creating a broader market for our biodiesel, thus making it more economically feasible and closing the price gap with fossil fuels," [says] Dirk Kronemeijer, SkyNRG CEO.
The fuel is to be blended at a 30 percent rate of biodiesel.