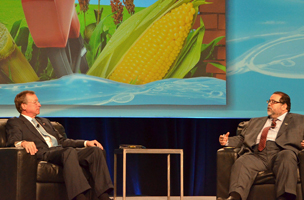 At the National Ethanol Conference last week, Renewable Fuels Association president and CEO Bob Dinneen had a discussion with Ed Hamberger, President and CEO, Association of American Railroads, on Regulatory Crackdown on Rail Transport. They discussed current government proposals focused on rail cars.
Hamberger kicked off the discussion by noting that ethanol has been one of the fastest growing commodity segments for the railroads growing from 40,000 rail cars of ethanol in 2000 to 330,000 in 2011- an 800 percent increase. While he said there were some challenges, new routes, new track, new employees, he said that over the years, the ethanol industry and the rail industry have become good partners for America. Rail Transportation conversation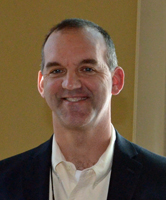 One ethanol plant of many that is using the railroads to transport its ethanol and byproducts such as dried distillers grains (DDGs) is Patriot Renewable Fuels, located just off I-80 in Annawan, Illinois.  Using rail and trucks involves a lot of logistics and Patriot's Rick Vondra has noted that with the cold weather over the last couple months they, along with other ethanol plants, have had challenges in moving their product, in particular rail movement.
"It's been a tremendous challenge and we've had to find alternative ways to move our product," explained Vondra. He said they are using more trucks but so are other plants and on top of the increased demand from their plant and the ethanol industry, the trucks still have other products to deliver.
So how is the weather affecting the railroad industry? Vondra said snow and ice have been a big factor because rail workers have to go and move switches that can get frozen. They have to remove ice from lines and with temperatures getting as cold as 20 below zero, workers can't be outside long.
With the goal of increased use of E15 and other higher blends of ethanol being a recurring theme during the conference, I asked Vondra what some of his takeaways of this conversation were. He noted that Patriot is working closely with retailers, wholesalers, distributors and car dealers in their local community to educate people on the benefits of ethanol, but also to encourage more adoption and use of ethanol in the community.
Listen to my interview with Rick where he talks about cold logistic challenges as well as their work on ethanol education. Interview with Rick Vondra, Patriot Renewable Fuels
2014 National Ethanol Conference Photo Album