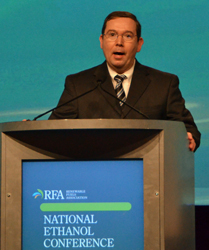 The phrase "all politics is local" seems like it sure could apply to some of the decisions to overcome the ethanol blend wall. Challenges to increasing ethanol in the marketplace exist on the state level as well as the federal level, and participants at the National Ethanol Conference learned more about efforts to break down the blend wall in various states, including Tennessee, where Randy Jennings is Director of Program Operations for the state Department of Agriculture Division of Consumer & Industry Services.
"Definitely, the walls are falling," is how Jennings described the results so far of their efforts, along with the Renewable Fuels Association (RFA), to increase the amount of ethanol to be blended into gasoline in his state.
He said they brought together various Tennessee state agencies, such as the state's Department of Environment and Conservation (the regulator of fuel storage tanks), Commerce and Insurance, and Department of Labor and Workforce Development, as well as stakeholding industries in Tennessee. They are proposing some key changes in current rules to also be proposed at this summer's National Conference on Weights and Measures (NCWM). Those changes include: an Environmental Protection Agency (EPA) waiver for up to 15 percent ethanol, redefining E85 and how it is marketed, and proposing yellow grip guards at the pump just for flex-fuels, among other proposed changes. Jennings hopes that there will be more fuel choices for consumers, while working with the industry.
"We remain committed to working with all stakeholders in a fair, consistent manner."
Hear more of his remarks here: Comments from Randy Jennings, Tennessee Department of Agriculture
Meanwhile, RFA Vice President for Technical Services Kristy Moore outlined some of the challenges they face on the state level, including EPA's restrictions during the summer volatility season.
"[For example in the Kansas City, Kansas area], gasoline in the summer must [meet EPA's capped requirements]. Gasoline in that area blended with 9-10 percent ethanol is allowed an 8 PSI requirement. But gasoline with 15 percent ethanol, has to meet the more restrictive [requirement]," she explained. And then in the rest of the state of Kansas, there are other requirements for E10 and E15 and above blends.
Moore said they have needed to work state-by-state, making sure they were not crossing laws already on the books and trying to get legislatures to make changes so there could be an increase in blends and more uniform blending rules across the country. She believes they've helped eliminate impediments in many states.
"We've really have had some major success, major education, and a lot of good partnerships in these state regulators to understand what E15 fuels can do, what blender pumps can do, what E85 can do for their marketplace and their fuel markets."
Listen to more of here remarks here: Comments from Kristy Moore, RFA
2014 National Ethanol Conference Photo Album