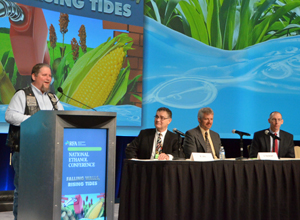 Specialists in the areas of auto, motorcycle and small engines presented their experience with ethanol fuels in the real world during the National Ethanol Conference.
The panel was moderated by radio host and automotive expert Bobby Likis of Bobby Likis Car Clinic in Pensacola. "In 43 years, more than 200,000 cars have rolled through the doors of my automotive service shop," said Likis. "Not one of my customers has lost or damaged an engine due to ethanol." Comments by Bobby Likis, radio host and automotive expert
The panel featured:
Dr. Andrew Randolph, Technical Director with Earnhardt Childress Racing Engines – Comments by Andrew Randolf, Earnhardt Childress Brian West, Oak Ridge National Laboratory Deputy Director Fuels, Engines and Emissions Research – Comments by Brian West, Oak Ridge National Laboratory Bryan O'Neill, Auto Service Consultant and Vice President of the Iron Order International Motorcycle Club, Pensacola Chapter – Comments by Bryan O'Neill, motorcycle expert and advocate
O'Neill's related that his own ride – a 2012 Victory Cross Country that "runs like a scalded dog" – has run on only E10 "from day one." Regarding the use of E15, O'Neill made it clear that the bikers he knows are well aware that it is illegal to use that in their rides and they are capable of reading labels at the pump. "We're bikers and I admit we've been known to do some dumb things, but we're not stupid," he said. "We know what to pump. It's that simple."
O'Neill is the star of a Bobby Likis Car Clinic/RFA video on motorcycles and ethanol.
2014 National Ethanol Conference Photo Album