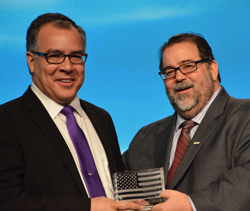 To recognize the advancement of cellulosic ethanol in a pivotal year, Renewable Fuels Association President and CEO Bob Dinneen presented the "RFA 2014 Industry Award" to Gerson Santos-Leon, the executive vice president of Abengoa Bioenergy New Technologies.
The award was given by RFA at the National Ethanol Conference this week in Orlando "in gratitude for the sustained vision, innovation, and devotion to making cellulosic ethanol a commercial success."
"Gerson is truly one of the great pioneers in the cellulosic ethanol industry. His work at the Department of Energy two decades ago helped provide the scientific foundation many companies are relying upon today to move advanced biofuel technologies forward." said Dinneen. "And his continued leadership over the past 10 years in bringing cellulosic ethanol to commercial success at Abengoa is a testament to his grit, his genius and his creativity." 2014 RFS Industry Award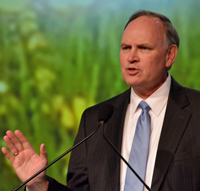 On Tuesday at the conference, Abengoa Bioenergy executive vice president Christopher Standlee participated in a panel on advanced ethanol plants coming on line this year, including their facility in Hugoton, Kansas. "We're very excited to finally start that up and we're in the process of that right now," he said.
I talked with Standlee about the new plant, what the impact of changing the RFS could have on future plans for Abengoa, and mood at the 19th annual National Ethanol Conference. Interview with Chris Standlee, Abengoa
2014 National Ethanol Conference Photo Album