New Generation Power Texas has begun the first phase of construction on their 400 Megawatt (MW) Texas Wind Farm. The newly formed subsidiary of Chicago-based New Generation Power started construction on December 11, 2013, which made the wind farm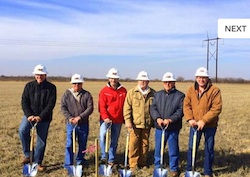 eligible for a Federal Renewable Energy Production Tax Credit (PTC). Located in Haskell County, just northwest of Dallas, Texas, the project is estimated around $650-700 million and will be built in two phases.
In order to qualify for the PTC Credit, which expired at the end of 2013, NGP Texas has completed milestones that included: Pre-construction development, early investments, environmental considerations, permitting, an interconnection agreement, excavated WTG foundations and mud mat placements.
'The cornerstone of our strategy was partnering with the ideal members to bring an exclusive group of talent, project expertise, and industry knowledge to showpiece this 400MW wind farm," said Ania Kuna, Executive Vice President of NGP Texas. "This reflects our desire to collaborate with companies that share our vision and have common goals. The ground breaking marks a very significant milestone exemplifying the dedication of our team."
New Generation Power said the project location was determined through long-term collection of wind data by 3 Met Towers who reports 50.5 percent capacity factor for the project.
Located on 22,000 acres of land, the Texas wind project will be capable of producing roughly 1,866 million megawatt hours (MWh) of energy annually and is expected to complete construction of both phases by the end of 2015. The construction, operation and maintenance of this large-scale project will require many boots on the ground and the involvement of numerous contractor parties which will result in the creation of multiple U.S. jobs