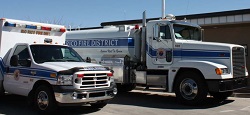 Firefighters are certainly some of the best public servants, and now at least one group of them in Arizona is trying to be ecological heroes, too. This story from KGUN-TV in Tuscon says the Rio Rico fire department is converting waste cooking oil into biodiesel.
"There's a lot of technical processes to go through and there's a few of us that know how to do it," said Patrick McCarthy, public information officer for Rio Rico Fire.
The Rio Rico Fire District is one of only a handful of districts actually making Biodiesel.
"As far as I know, what we're doing is industry leading as far as producing our own Biodiesel," said McCarthy. "We would like all the departments to start doing it because it benefits their communities and the environment also."
The district converts used cooking oil it collects from restaurants, but also more and more people are starting to drop off oil at the district's three stations.
"It's just really really catching on and I think the community is starting to see the benefit of recycling their oil instead of throwing it away," said McCarthy.
Right now, more than half of the Rio Rico fire department fleet runs on biodiesel, and they're shooting to have all their trucks running on the green fuel. Area residents wanting to help out can donate their used cooking oil.