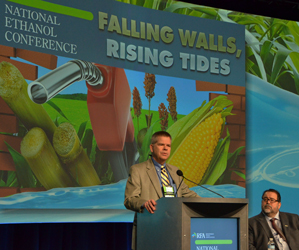 The Director of the Office of Transportation and Air Quality for the U.S. Environmental Protection Agency addressed the National Ethanol Conference on Wednesday morning on issues related to the Renewable Fuel Standard and EPA's proposal for the 2014 Renewable Volume Obligations (RVO).
Chris Grundler was scheduled to be on a panel at the NEC Tuesday but had a conflict and instead had the stage to himself to talk about how the EPA came up with the proposal that shocked the ethanol industry when it was released last fall. "You deserve to really understand what went into our thinking on that," he said. "The most disappointing thing I heard in the reporting is that EPA no longer supports the development of biofuels, and I'm hear to tell you that's wrong."
"Our overriding goal with this 2014 RVO proposal is to put the RFS in what we call a manageable trajectory while continuing to support the growth of renewable fuels in our transportation supply," he said. "We have to address some of the practical realities that we see today in the marketplace."
Grundler stressed that the proposal is just that and it could be changed. He also noted that EPA received over 100,000 written comments during the comment period with 6,000 "unique" comments, and that the hearing held in early December was a record. He added that they do intend to try and meet the goal of finalizing the rule by the end of spring.
A disarmingly un-bureaucratic bureaucrat, Grundler was forthcoming and even funny in his short presentation and afterword even met with reporters to answer questions. Comments by Chris Grundler, EPA
Raw informal press availability audio – Press Avail Chris Grundler, EPA
2014 National Ethanol Conference Photo Album