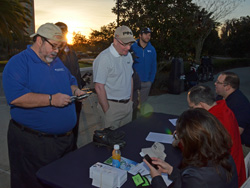 Breaking news. Ethanol industry gets break from winter. How? By attending the 2014 National Ethanol Conference in Orlando. The Domestic Fuel team is on the scene.
It's a beautiful sunny day to start things off with some fun activities like the annual golf tournament or an Everglades airboat ride. I took golf pictures while Cindy is checking out the Florida wildlife.
To kick off our coverage of this year's conference I interviewed the Reverand of Renewable Fuels, Bob Dinneen, Renewable Fuels Association. As you might expect, Bob says they'll be talking a lot about the EPA and the Renewable Fuels Standard. He likes the mood of attendees and says they're optimistic. I personally think the sunshine and warm temps are helping!
You can listen to my interview with Bob here: Interview with Bob Dinneen
Here's where you can find golf tournament photos to download and share: 2014 National Ethanol Conference Golf Tournament Photo Album