Electric Vehicle (EV) charging stations are expanding in Las Vegas, Nevada and Houston, Texas. MGM Resorts International has announced the largest installation of EV charging stations in Nevada while IKEA has announced the addition of EV charging stations at its store located in Houston, Texas.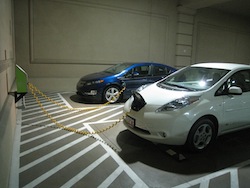 MGM is installing 27 EV charging stations at nine of their Las Vegas resorts as well as at their corporate offices. Additional stations will be available at Circus Circus in Reno, Nevada. The charging stations, which will be installed in guest garages and valet areas, will be available for employees and guests to use at no cost.
"It is important that our guests have the convenience and ability to continue sustainable habits during their time with us," said Cindy Ortega, Chief Sustainability Officer of MGM Resorts International. "The installation of these charging stations encourages green practices in both our guests and employees, serving as a natural step toward smarter, cleaner transportation systems."
Drivers will be able to access real-time information about the EV charging stations via a ChargePoint mobile application, which shows whether a station is open in addition to the percentage of charge on the vehicle, when the vehicle is fully charged and when a charging nozzle has been removed. Each charger is equipped with two Level 2 charging ports supplying up to 7.2 kW, full motion color LCD display and a robust cord retraction system. All units will have the industry standard SAE J1772 charging ports.
"The installation of EV charging stations provides yet another draw to visit and stay at the MGM Resort properties," said Pasquale Romano, CEO of ChargePoint, the largest network of EV charging stations in the nation. "This project shows MGM's commitment to sustainability and continued leadership. It also represents a significant benefit to MGM's guests and employees alike, and allows ChargePoint to move closer to our goal of providing charging wherever people work, shop, eat and play."
Four charging stations at Mandalay Bay, MGM Grand Las Vegas and Circus Circus Reno have already been installed and are fully operational. Installation of the remaining EV charging stations is expected to be complete by the end of February 2014. MGM Resorts installed its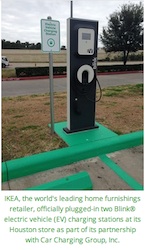 first charging stations in 2011 at The Shoppes at Mandalay Place and The Shops at Crystals. In 2012, an additional station was installed at its corporate office.
IKEA has plugged-in two Blink EV charging stations at its Houston store as part of its partnership with Car Charging Group, Inc., the new owner of the Blink Network and Blink charging stations, and the largest provider of EV charging services with more than 13,750 charging points in 35 states and three countries. To charge an EV at IKEA Houston, drivers pull into a designated parking spot, tap their Blink InCard (RFID card) to the reader below the screen, plug the charger into the EV and then shop and eat at their leisure in the IKEA store while the vehicle is charging. This initiative represents the 12th such U.S. project for IKEA, with installation underway at other locations.