The U.S. Department of Energy's (DOE's) Bioenergy Technologies Office (BETO) has released its Advancements in Algal Biofuels: Year in Review. The goal of BETO is to support advanced in the production of algal biofuel – especially those that lower the cost of production.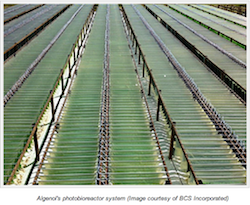 The report highlights several notable R&D breakthrough including:
Fast algae-to-bio-crude oil process reduces production costs – DOE's Pacific Northwest National Laboratory (PNNL) is receiving national recognition for developing a process to turn algae into bio-crude oil in just minutes. PNNL's technology eliminates the lipid extraction step and subjects whole algae to very hot water under high pressure to convert the algae biomass into bio-crude oil (a process called hydrothermal liquefaction). PNNL successfully treated wet algae biomass in a commercially relevant, continuous process that doesn't require drying steps or solvents to make the bio-crude oil.
Discovery in algae cell biology overcomes key challenge to algal biofuels – Researchers at the Scripps Institute of Oceanography (SIO) made a significant breakthrough in the metabolic engineering of algae to improve yield of lipids (the energy-storing fat molecules that can be used in biofuel production). Algae typically only accumulate lots of lipids when they are starved for nutrients, but the drawback to starvation is that it limits organism growth. The SIO research team genetically engineered a disruption in the synthesis of the enzymes that breakdown the storage lipids that are produced during normal growth, allowing for lots of lipid accumulation without starving the algae. The resulting algae both grow fast and accumulate lipid at the same time. The high lipid yields that result from utilizing this method can potentially improve the economics of algal biofuel production.
Collaborative outdoor algae production testing facilities come online – Two national algae R&D testbed programs kicked off their project work in 2013. The Arizona State University-led Algae Testbed Public-Private Partnership (ATP3) and the University of Arizona Regional Algae Feedstock Testbed Partnership manage algal biofuel R&D facilities across the United States and serve as engines for algal technology innovation and validation, job training and workforce development, and long-term cultivation data.
In response to the report, the National Algae Association's (NAA) Barry Cohen said that while the advancements might be news in Washington, none of them are newsworthy to the algae production industry.
For example, Cohen said the work being done at the Pacific Northwest National Laboratory is not news. "Hydrothermal liquefaction is another name for a process that has been used in petroleum refining for more than 100 years."
He also noted in regards to the two national algae testbeds that NAA has not been able to independently verify the status of any of the facilities. "NAA has, however, created its own online Algae Production Certification Course and its second algae production incubator facility is operational," said Cohen.
Read NAA's full remarks regarding the report here.