Dear Congress,
Please keep our millions of dollars in tax breaks in place. We only make $93 billion in collective profit per year. This is not enough money to operate our businesses and overcharge our customers. We're sure you will make the right decision.
Yours truly,
Big Oil
This is what a letter to Congress might look like from Big Oil who according to a report from the Center for American Progress, made a combined profit of $93 billion in 2013. The total is for five big oil companies: BP, Chevron, ConocoPhillips, Exxon Mobil and Shell. Despite this ridiculous amount of revenue (these companies made $177,000 per minute), they are fighting to keep their tax breaks in addition to lobbying to lift the crude oil export ban.
The five Big Oil Brothers actually increased total production in 2013 most due to BP and ConocoPhillips in essence single handedly doubling production. Although production went up, profits went down because it is becoming more expensive to extract oil. It is this change that is causing the oil industry to argue they need their tax breaks to continue.
What is staggering is that the $93 billion profit is down nearly 27 percent from 2012. In addition to higher cost of production, the average price of gasoline in 2012 was 16 cents less per gallon than the previous year.
It would not be surprising, write Daniel Weiss and Miranda Peterson, both with Center for American Progress, "if the big five oil companies use their 2013 decline in profits as another excuse to pressure Congress to retain their $2.4 billion-per-year tax breaks. The largest of these special provisions, they write, allows these companies to qualify for the "limitation on section 199 deduction attributable to oil, natural gas, or primary products, which will cost taxpayers $14.4 billion over 10 years. This according to the Congressional Joint Committee on Taxation. This particular tax break was enacted in 2004 and was designed to encourage manufacturing to remain in the United States rather than move overseas. It was not meant to apply to oil and natural gas production since the oil and gas fields cannot be moved to another nation.
The authors write that the decline in profits is also why the American Petroleum Institute, Exxon Mobil, and other oil companies are lobbying to lift the crude oil export ban, which would enable them to sell their domestic oil at the world, or Brent, price that fetched nearly $10 per barrel more than the domestic, or West Texas Intermediate,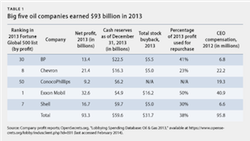 price on February 7, 2014.
But lifting the ban would force the U.S. to import more expensive foreign oil to replace the exported domestic oil, which could raise gasoline prices. Banking giant Barclays Plc predicts that lifting the current ban could add $10 billion annually to gasoline prices paid at the pump.
Despite the decline in profits last year, BP, Chevron, ConocoPhillips, Exxon Mobil, and Shell are some of the richest, most profitable companies in the world. Their proposal to eliminate the crude oil export ban, their battle to keep some unnecessary federal tax breaks, and their uncontrolled climate pollution, however, could or do impose real costs on American families.