Heliae's algae production technology is heading to Arizona State University's (ASU) algae testbed facility. The company is partnering with SCHOTT North America to install a Helix photobioreactor at ASU's Department of Energy (DOE)-funded algae testbed facility.
Over the next several years, algae research staff at ASU will leverage the Helix photobioreactor, built by Heliae, for pioneering research that will forward the understanding of algae production technology, including an investigation into the effect of glass tubing innovation on the yields and economics of algae production. The reactor will also deliver the production of high-quality algae cultures, which will support broader ASU algae operations.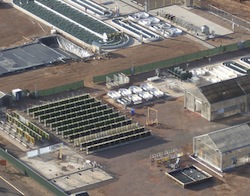 The DOE-sponsored testbed at ASU is part of the Algae Testbed Public-Private Partnership (ATP3), a network of algae industry leaders, national labs, and research facilities. Led by ASU, ATP3 enables both researchers and third party companies to succeed in their algal endeavors by providing a national network of testbed systems and other services, such as research and education.
Over the course of the multi-year research plan, ASU will manage Helix operations and research, while Heliae and SCHOTT will support the project in an advisory capacity.
"To develop world-class technology, it's essential to partner and collaborate with the best innovators in the industry," said Dan Simon, Heliae's president and CEO. "For glass innovation, there is no equal to SCHOTT, and the interactions between Heliae's and SCHOTT's research and development teams over the years have helped both companies develop world-class technology that will truly enable this industry."
As a key facet of the program, SCHOTT will continually supply novel glass tubing configurations to be placed within the Helix platform for validation and performance analysis. SCHOTT's new CONTURAX oval glass tubing will likely replace current tubing later in 2014. Its oval shape offers a larger surface area for better light utilization and penetration, which should increase the productivity of the reactor, thereby reducing operating costs.
In addition to testing various types of glass configurations, ASU will analyze the growth of various algae strains, production regimes, and light conditions, while offering a powerful tool to enhance ongoing operations at ATP3.
Dr. Nikolaos Katsikis, Director Business Development SCHOTT Tubing said of the project, "SCHOTT and Heliae have been working together on technology development for years, as Heliae's technical leadership in the algae industry is unmatched. Pairing our history in glass innovation with Heliae's demonstrated algae expertise will continue to produce commercial technology for the growing algae industry.
"This partnership and public research are great steps in bringing efficiency and cost reduction to producers of high-quality algae around the world," Katsikis added.