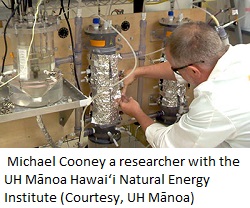 Researchers in the Aloha State are partnering with a local biodiesel maker to try to figure out how to make the water in restaurant grease traps reusable. This news release from the University of Hawaiʻi at Mānoa says the school's scientists are working with Pacific Biodiesel to get the water out of the feedstock the biodiesel brewer uses.
"It is kind of a novel incubator way to bridge technology from the university into industry and vice versa," Michael Cooney a researcher with the UH Mānoa Hawaiʻi Natural Energy Institute.
"UH has brought the technology to apply to this problem that we have that has a real world economic model that's waiting for it to be invented," said Bob King, the founder and owner of Pacific Biodiesel Technologies, LLC.
Wastewater from dishwashing and cleaning kitchens would clog sewer lines because of the oils it contains. Restaurants are required to have grease traps to prevent this from happening and pay companies like Pacific Biodiesel to remove and transport that wastewater to sewer plants. The plants charge a higher fee to dispose of it because it takes more energy to treat.
Pacific Biodiesel wants to recycle the grease trap water, which would be better for the environment, increase the company's profit margin and reduce grease trap service fees for restaurants.
"It makes it so much harder to do the right thing if it is more expensive," said King. "So the more we can do to make this more efficient and cost effective then the easier it is to get into the market."
Officials believe that if they are successful, it will have a major impact on the world's wastewater situation, while also helping to produce clean burning fuel.