Alstom has announced a contract to supply 5 Haliade 150-6 megawatt (MW) offshore wind turbines for Deepwater Wind's 30-MW Block Island pilot Wind Farm located off the coast of Rhode Island. The project will be one of the first offshore wind farms in the U.S. and will be the first to feature Alstom's Haliade 150-6 MW –the largest turbine installed in offshore waters today. The five turbines will produce approximately 125,000 MWh of electricity a year, enough to power over 17,000 homes.
The company will manufacture the Haliade 150-6 MW direct drive wind turbines and provide 15 years of operation and maintenance support for the Block Island Wind Farm owned and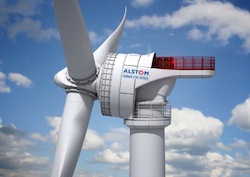 operated by Deepwater Wind. The company says its Haliade 150-6 MW wind turbine features Alstom's Pure Torque design for optimum efficiency and reliability and its 150-meter diameter rotor provides an energy yield that is 15% better than existing offshore turbines.
"Our contract with Deepwater Wind further demonstrates our commitment to the expanding U.S. wind market," said Andy Geissbuelher, Head of Alstom's North American Wind Business. "Drawing on the experience and knowledge gained from our collaboration with Dominion Virginia Power, we are driving the technology innovation needed to make offshore generation a strategic part of the energy mix."
The Block Island project is aligned with The Bureau of Ocean Energy Management's "Smart from the Start" offshore wind program, which aims to accelerate the development of clean, renewable offshore wind along the eastern seaboard of the U.S. The project could lead to a larger utility-scale offshore wind farm of more than 1 gigawatt supported by a regional transmission system linking Long Island, New York and South-eastern New England.
In late 2013, Alstom successfully installed its 6MW Haliade, which at the time was world's largest offshore wind turbine, off the coast of Belgium. Alstom is part of a consortium led by EDF Energies Nouvelles that was awarded three projects in the first tender launched by the French government to install offshore wind turbines generating 3 GWs of wind power off the coast of France. The successful bid included a total of 240 Haliade 150-6 MW turbines.