The American Coalition for Ethanol (ACE) has elected its 2014 board officers this week with a continued emphasis on providing opportunities for independent ethanol producers, farmers, and grassroots advocates to innovate and succeed.
Ron Alverson, founding chairman and current board member of Dakota Ethanol, a 48 million-gallon-per-year (MGY) ethanol producer in Wentworth, SD, was re-elected as President of the ACE Board of Directors. "I am eager to work with such a diverse group. The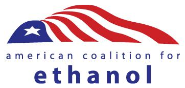 experiences and perspectives of the ACE board are well suited to represent our members as we continue to highlight the potential of a strong Renewable Fuel Standard (RFS) and higher blends like E15 and E85, and what kind of benefits they offer for the consumer and the rural economy," said Alverson.
Duane Kristensen, General Manager of Chief Ethanol Fuels, a 62 MGY ethanol producer in Hastings, NE, was elected Vice President of the ACE board. He noted, "ACE and Chief Ethanol Fuels are a great combination in that we share many of the same ideals and background, I look forward to this opportunity to help highlight ethanol's rural success story and I'm enthusiastic about the potential to focus on long-term efforts that will help support the industry, agriculture, and American independence."
Dave Sovereign, who represents Golden Grain Energy, a 100 MGY ethanol producer in Mason City, IA, on the ACE board, and also serves on the board of Absolute Energy, a 115 MGY ethanol producer in Lyle, MN, was elected Secretary of the ACE Board of Directors. Sovereign also owns Cresco Fast Stop, a convenience store that specializes in selling E15, E30 and E85. "I am excited about this opportunity. I know firsthand how the ethanol industry has brought quality jobs for quality people while revitalizing rural communities across the country. And I'm looking forward to helping promote the industry and its growth so future generations of rural Americans can prosper."
ACE officers and two additional board members comprise the ACE Executive Committee. The 2014 ACE Executive Committee is as follows:
Ron Alverson, Dakota Ethanol, President
Duane Kristensen, Chief Ethanol Fuels, Vice President
Dave Sovereign, Golden Grain Energy, Secretary
Owen Jones, Full Circle Ag Cooperative, Treasurer
Lars Herseth, Herseth Ranch, Member
Scott Parsley, East River Electric Cooperative, Member