The Production Tax Credit (PT) that provides tax incentives for the wind energy industry expired on December 31, 2013. Although there has been talk of tax reform, that would include a new formula for clean energy tax incentives, more than 50,000 citizens are urging Senator Ron Wyden (D-OR) to making a renewing the PTC one of his biggest priorities. Sen. Wyden will be taking over as new chair of the Senate Finance Committee.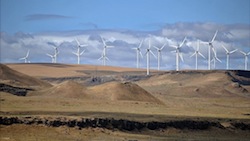 The petition was started by Iowa State Senator and Climate Parents member Rob Hogg and is set to be delivered to Sen. Wyden's offices in Washington, D.C. and Oregon this week.
Last month, Sen. Wyden stated he was "not going to sit idly by while plans for renewable energy development are sacrificed on the altar of inaction."
Supporters of the PTC point to the lobbying efforts of industry figures, such as the Koch brothers, as the explanation behind its initial expiration. According to a Huffington Post article, the Koch brothers have "enlisted their extensive network of think tanks, advocacy groups, and friends on Capitol Hill to spearhead a campaign to pull the plug on the PTC."
According to Sen. Hogg, there is growing momentum across the country for an extension of the wind tax credit. An example of this momentum is unanimous approval of a resolution calling on Congress to extend the PTC by a bipartisan coalition of Iowa state senators. "We must support wind power and renewable energy," said Hogg. "Our children and our grandchildren are counting on Congress to act."
Hogg explains that despite oppositional efforts, the PTC still enables wind energy to compete with highly subsidized fossil fuel industries, attracts investors for new wind projects, fosters innovation and employs tens of thousands of Americans in the clean energy economy. "Wind power currently provides 25% of Iowa's electricity generation and has increased nationally by 30% per year over the past five years. The wind power tax credit made this possible," said Hogg.
Climate Parents Director and Co-Founder Lisa Hoyos said that the decision on whether to extend the wind PTC is a crucial test for Congress that will our children will grow up in. "We have the technology to shift to 100% clean energy. What we're lacking is the political commitment from Congress to support the investments in renewable energy that will protect our kids' from the climate impacts already harming communities. Senator Wyden's leadership on this issue is critical right now."
"When it comes down to it, Congress has a choice. Are they with the Koch brothers, or with our kids?" said Hoyos. "People across the country have joined this call to action, because we know future generations need us to rapidly deploy kid-safe, climate-safe energy, and stop investing in the dirty energy fueling climate change."