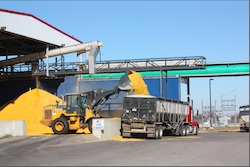 U.S. exports of the ethanol co-product distillers grains set a new record last year and exports of ethanol were lower but still strong.
According to the latest government statistics, exports of distillers dried grains with solubles (DDGS) totaled a record 9.7 million metric tons (mmt) last year, up 31% from 2012 and well above the previous record of 9.0 mmt set in 2010. China was the leading destination for U.S. distillers grains, taking 46% of the total, with Mexico and Canada a distant second and third.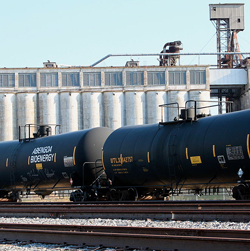 U.S. exports of ethanol totaled 621.5 million gallons in 2013, down from the previous year but still the third-highest annual total on record. Canada was by far the leading export market for the year, receiving 52% of the total. The Philippines ranked second, followed by Brazil, the United Arab Emirates, and Mexico. Meanwhile, U.S. ethanol imports were down 27% from 2012, making the United States a net exporter of 226.3 mg in 2013, roughly a 24% increase over 2012 net exports.
"U.S. produced ethanol is the world's lowest cost liquid transportation fuel. As such, we anticipate that export opportunities will continue to grow as countries across the globe recognize the air quality, high octane and superior performance of renewable ethanol," said Bob Dinneen, President and CEO of the Renewable Fuels Association.