President Barack Obama traveled to Michigan State University to sign the Agricultural Act of 2014 at the alma mater of Senate Agriculture Committee chair Debbie Stabenow (D-MI).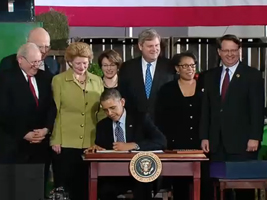 "Despite its name, the farm bill is not just about helping farmers," President Obama told the small crowd invited for the signing. "Secretary Vilsack calls it a jobs bill, an innovation bill, an infrastructure bill, a research bill, a conservation bill. It's like a Swiss Army knife."
The president also gave a shout out to biofuels production in Michigan in his address prior to the bill signing. "I just got a tour of a facility where you're working with local businesses to produce renewable fuels," said Obama. "This bill supports businesses working to develop cutting edge biofuels, like some of the work being done here at Michigan State."
Listen to the president's speech here: President Obama farm bill signing
What do you think of the new farm bill? Which part is most important to you? Tell us in this week's ZimmPoll.