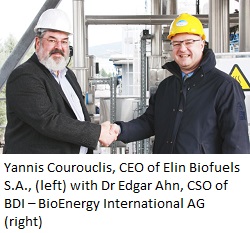 A Greek biodiesel plant gets retrofitted to take a wider range of lower quality feedstocks, including grease. BDI-BioEnergy International AG announced the retrofit of the Elin Biofuels S.A refinery in Volos, Greece.
The aim of the RetroFit optimisation project was to increase both raw material flexibility and the quality of the final biodiesel product via the remodelling, expansion and process optimisation of an existing biodiesel plant that was based on outdated German technology.
As a result of the optimisation exercise, not only vegetable oils but also raw materials of lower quality, such as used cooking oil and animal fats, can now be processed into high-quality biodiesel with a capacity of about 33,000 tonnes/year. The quality of the distilled biodiesel satisfies the stricter quality requirements that will have to be met in future (new biodiesel standard in the EU, CEN 14214/2013). The project has now been handed over to the satisfied Greek customer Elin Biofuels S.A officially on time and on budget.
"We are very enthusiastic about BDI's technical skills and the professional way in which the company carried out the project. Co-operation with BDI proved to be a very effective partnership throughout the project. The final outcome is better than we expected", said Yannis Courouclis, CEO of Elin Biofuels S.A, at the official opening of the optimised plant.
BDI officials point out that they were able to make the changes without interrupting the current biodiesel operation.