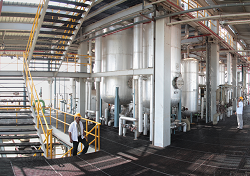 A California advanced fuels and renewable chemicals company is now producing high-quality biodiesel in India. Aemetis, Inc. says its 50 million gallon per year capacity biodiesel and refined glycerin production facility in Kakinada, India will use advanced technology to produce the green fuel and glycerin by-product.
"The new distillation production unit is fully commissioned and the India facility now produces biodiesel meeting or exceeding the highest standards for biodiesel quality worldwide," according to Sanjeev Gupta, Managing Director of Aemetis' subsidiary in India, Universal Biofuels Private Ltd.
The Aemetis plant is the only distilled biodiesel producer in India and is one of the only plants in Asia capable of producing large supplies of biodiesel that meet the rigorous European Union (ISCC) standards. During 2013, approximately $20 million of biodiesel was produced by the Aemetis plant in India and delivered to customers in Europe.
"The completion of this biodiesel distillation unit allows Aemetis to significantly expand our production levels in order to supply European and India biodiesel customers," stated Eric McAfee, Chairman and CEO of Aemetis.
Aemetis officials say they plan to take advantage of the European Union's imposition of anti-dumping tariffs against Argentine and Indonesian biodiesel to offer a low-cost source of biodiesel and glycerin to Europe.