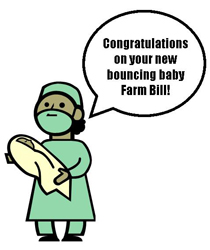 Today the U.S. Senate voted 68-32 to pass the 2014 farm bill after years of work by both Agriculture Committees. The House passed its version of a conference bill Jan. 29, and now the farm bill goes to President Obama's desk.
The President is expected to sign the bill into law. The Agricultural Act of 2014 expands bio-energy production, supporting non-food based advanced biomass energy production such as cellulosic ethanol and woody biomass power. Specifically, the new Farm Bill funds biomass initiatives for the next five years:
Bio-Based Markets for $3 million per year
Biomass Research and Development for $3 million per year
Biorefinery, Renewable Chemical and Bio-Based Product Manufacturing Assistance Program for $100 million in 2014 and $50 million in 2015 and 2016
Biomass Crop Assistance Program for $25 million per year
Bioenergy for Advanced Biofuels for $15 million per year
"America's farmers are core to the innovation that's driven down our dependence on foreign oil – and this policy will keep them doing it, said Adam Monroe, regional president of the Americas for Novozymes, a global leader in bioenzyme production. There's already enough concern about energy policy in America with EPA's proposed revisions to the Renewable Fuel Standard. It's a power sign to see policy certainty surrounding the energy programs in the farm bill. We thank Congress for taking action and we urge President Obama to swiftly sign it.
Growth Energy is also supportive of the Farm Bill with CEO Tom Buis commenting, "This legislation will encourage further development in biofuels by continuing to fund essential programs such as the Biorefinery Assistance Program, Rural Energy for America Program and Biomass Crop Assistance Program.
"The bottom line is that this bill helps create jobs in rural America and advances first and next generation biofuel production that will help improve our environment and reduce our dangerous addiction to foreign oil.