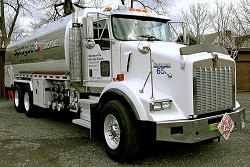 Five years ago, a pioneer in biodiesel in New Jersey became the first in that state to offer the green fuel to the public. This article from Biodiesel Magazine says Maplewood's Woolley Fuel is still going on strong with a blending dispenser is capable of doling out blends 5 to 30 percent biodiesel.
"We are pleased that demand has pushed the blending system to the max," said [Norman] Woolley. "The public has been asking for higher blends still." B30 is the maximum ratio blend the computer blending system is currently configured for.
Since the system was opened for public use in 2008, many have adopted using the cleaner burning fuel. Diesel motorists and New Jersey homeowners heating with oilheat are now even closer to having the clean fuel abundantly available.
The anniversary recognizes more than the installation alone, but also a dynamic shift in the customer, business relationship. Since the biodiesel innovation, Woolley has become active in community efforts to educate and create more awareness surrounding renewable energy sources, from providing training to the state weights and measures on biodiesel to leading Kent Place AP Environmental class about biofuels. The fuel has provided a shift in opportunity from fuel supplier to energy and future generations advocate.
"We've transitioned to educators in a sense, because our customers are interested in what biodiesel is and what it means to them, and this naturally progressed into becoming a resource for customers and the overall community on energy in general," Woolley said. "It's allowed us to stay in front of community concerns as it relates to their home and everyday energy demands."
The anniversary also comes as the New Jersey legislature is considering legislation that would require all heating oil sold in the state to contain a blend of biodiesel beginning in July 2014.