Greenercars.org has released its 17th annual 2014 Environmental Scores with the Smart ForTwo Electric Drive topping the list with the hightest-ever score of 59 out of 100. The vehicle will be rolled out nationally this year. The GreenerCars initiative is part of the American Council for an Energy-Efficient Economy (ACEEE).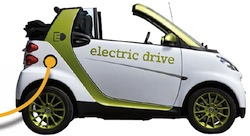 The next two "greenest" cars were the Toyota Prius C and the Nissan Leaf. Toyota's entire family of Priuses performed exceedingly well, with the regular Prius and the Prius plug-in hybrid nabbing spots #4 and #7. Other top scorers for 2014 include the Honda Civic Hybrid (#5), Lexus CT 200H (#6), Honda Insight (#10), and the Volkswagen Jetta Hybrid (#12). Making its return to the "Greenest" list after an absence last year is the Honda Civic Natural Gas vehicle (#9).
"We've had such an influx of hybrid and electric vehicles in recent years that the race to earn a spot on the "Greenest" list is more competitive than ever, particularly for conventional vehicles. It's encouraging to see automakers investing heavily in eco-savvy vehicles on the whole," said ACEEE lead vehicle analyst Shruti Vaidyanathan.
New to the list this year is the Mitsubishi Mirage, Mitsubishi's new subcompact offering for the American market. The gasoline vehicle takes the 8th spot on the list. The only other non-hybrid gasoline model to make the list this year is the Smart ForTwo which placed at #11.
"From the rise in the number of efficient vehicles in car-sharing and car rental fleets to the myriad advanced technology vehicle choices available to consumers, the leading edge of the U.S. auto market is evolving rapidly," said Steve Nadel, ACEEE's Executive Director.
In addition to the "greenest" cars, the list also includes "greener choices" and the "meanest" cars as well. The dirtiest vehicle for 2014 is the Class 2B Ram 2500 followed by the Bugatti Veyron and the Ford E-150 FFV Wagon.