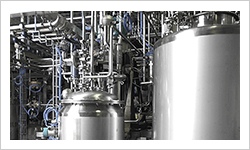 A Portuguese company will be building a 40,000 MT/year (about 12 million gallons) biodiesel plant in the Middle East. Engineering company IncBio, which specializes in state-of-the-art fully automated industrial ultrasonic biodiesel plants, announced the deal with Saudi Arabia's Bio Renewable Energy Factory.
It will incorporate IncBio's ultrasonic technology to produce Biodiesel from animal fats collected from rendering plants in the Saudi market. The plant will be the first of several projects planned by BREF for the region for the coming years, and the success of the business plan is supported by the selection of one of the most advanced Biodiesel plants in the world, utilizing technology that is both innovative and widely proven in Biodiesel production plants globally. IncBio has been leading the way in developing and implementing the latest technology in Biodiesel production, and this contract's award is further proof that this is exactly what the market is looking for.
Converting animal fats into Biodiesel is not without challenges, and most plants in the world are unable to process it correctly, but through our extensive experience in this market and the use of ultrasonic technology the reaction times are much shorter than conventional plants, whilst producing the highest quality Biodiesel, with yields that set a benchmark in the industry. Using our multi-feedstock technology, industrial units are able to convert a wide range of raw materials into high quality Biodiesel, exceeding the strict standards of EN14214 and ASTM D6751.
The plant is expected to be finished sometime in the fourth quarter of this year.