During the Icelandic Deep Drilling (IDDP) project that began in 2009, a borehole drilled at Krafla in northeast Iceland unexpectedly hit magma at 2100 meters with a temperature of 900-1000 Celsius. This borehole was the first of several wells being drilled in search of high-temperature geothermal resources.
Fast forward four years later and the efforts of the IDDP project were reported in the January 2014 issue of the International journal of Geothermics. One paper focusing on this project was co-authored by Wilfred Elders, a professor emeritus of geology at the University of California, Riverside, along with several of his Icelandic colleagues.
"Drilling into magma is a very rare occurrence anywhere in the world and this is only the second known instance, the first one, in 2007, being in Hawaii," Elders explained. "The IDDP, in cooperation with Iceland's National Power Company, the operator of the Krafla geothermal power plant, decided to investigate the hole further and bear part of the substantial costs involved."
Once the magma was hit, the team inserted a steel casing in the bottom section closest to the magma and cemented it into the well. The hole was then allowed to heat slowly and eventually allowed to flow superheated steam for the next two years, until July 2012, when it was shut down in order to replace some of the surface equipment.
"In the future, the success of this drilling and research project could lead to a revolution in the energy efficiency of high-temperature geothermal areas worldwide," Elders said.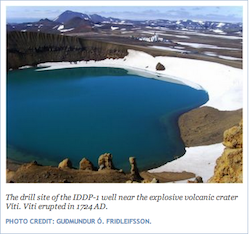 He noted that several important milestones were achieved in this project. Despite some difficulties, the project was able to drill down into the molten magma and control it. It was then possible to set steel casing in the bottom of the hole allowing the hole to blow superheated, high-pressure steam for months at temperatures exceeding 450 C. This temperature secured a world record for geothermal heat, and the well could be fed directly into the existing power plant at Krafla. In addition, the IDDP-1 demonstrated that a high-enthalpy geothermal system could be successfully utilized.
"Essentially, the IDDP-1 created the world's first magma-enhanced geothermal system," Elders said. "This unique engineered geothermal system is the world's first to supply heat directly from a molten magma."
The next step in the project is to repair the well or drill a similar hole and continue to study the possibility of generating power from magma.