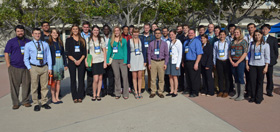 Students from across the country took advantage of this year's National Biodiesel Conference and presented their research to gain feed back and awareness of the biodiesel industry. This opportunity also allowed them to network with fellow researchers and learn more about the biodiesel community.
Chuck met up with three of the young people and they shared what sparked their interest in biodiesel and what their research has consisted of. All three were really excited to see how respective the professionals they presented to were to their new ideas and research.
They also committed about the opportunity to met and ask questions from other fellow students who attended the event. Peer review is an essential part of these in-depth research studies.
You can listen to Chuck's complete interview with these young scientists here: Interview with Student Scientists