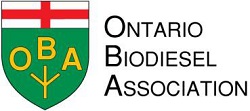 A new group looks to promote biodiesel for refiners in Ontario, Canada. The Ontario Biodiesel Association (OBA) promises to work together to promote the production and use of the green fuel.
OBA members currently produce 100% of the grain-oil based biodiesel in Ontario which accounts for 75% of the total provincial production capacity of all biodiesel. OBA members have invested over $80 million in plant and equipment to produce biodiesel in the province. Besides environmental benefits, the biodiesel industry provides a direct and indirect positive economic impact on the province and its agricultural sector.
"OBA's strength is the unity of biodiesel producers, supporting Provincial policy development, to improve Ontario's air quality by promoting increased use of Biodiesel. The OBA is working with the Ontario government, feedstock suppliers and other key stakeholders to the industry to reach this goal." Paul Grenier, Executive Director, Ontario Biodiesel Association.
OBA members include Methes Energies Canada Inc. located in Mississauga and Sombra (55 million liters/year), Great Lakes Biodiesel (GLB) in Welland (170 million liters/year), and Noroxel Energy Limited in Springfield, just outside of Alymer (5 million liters/year).