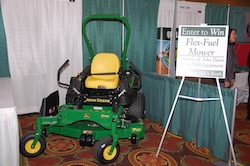 If there was one item that was coveted above all others at the 8th Annual Iowa Renewable Fuels Summit, it was the E85, flex fuel riding lawn mower donated by John Deere. Attendees who submitted comments to the EPA were registered to win and people were jockeying for position to run up to the podium when their number was announced….and the winner is…Jim Baker with EcoEngineers who noted that he is going to have to buy a new house with a bigger yard to get the full value out of his new toy.
Jim was so excited he was hoping to drive it home but, well, it was a tad cold out. EcoEngineers, who is based in Des Moines, is a company specializing in biofuel compliance issues such as RIN management, plant registrations and more. EcoEngineers also hosts webinars for the industry as well as workshops. It is anticipated that when the weather gets warmers Jim will ride to work on his E85 John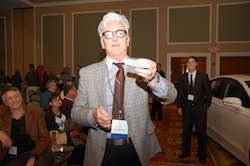 Deere riding mower and as a gal about town, I will be sure to get a photo and tweet it out.
Want to get a peek at this bad boy? Jim is taking applications for lawn mowing jobs. I suspect there will be a lot of people lining up to mow his lawn this summer.
Monte Shaw, the executive director of the Iowa Renewable Fuels Association (Iowa RFA) who was the host of the event, said that he wanted to give special thanks to John Deere for their support of the event and the industry. John Deere has been selling agricultural equipment designed to use biodiesel for years.
Listen to my interview with Jim Baker here: EcoEngineer's Jim Baker Wins Coveted FFV Mower