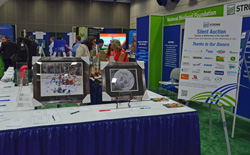 It is easy to say that many of the promotional opportunities we see from the biodiesel industry wouldn't be possible without the Biodiesel Foundation. During the 2014 National Biodiesel Conference the foundation was hard at work to raise money in order to increase awareness.
Beth Calabotta, Vice President of the Biodiesel Foundation, shared with Chuck in an interview that their goal is to work to promote biodiesel education, infrastructure and awareness.
"We promoted a sustainability tour where we brought a lot of policy makers and their support staff out to see farms in Iowa and biodiesel plants. They really got a feel for what the renewable fuels industry is. We have co-hosted a tour of some environmental groups from California who had never been to a farm before and actually see how biodiesel is made. We have also been sponsoring some educational studies at Purdue University aimed at really understanding what this indirect land use change is and really improving the science."
The Foundation has a very wide variety of people on it's board, including producers, farmers and many others involved and passionate about the industry. Those interested in doing their part and contributing to the Biodiesel Foundation can do so at www.BiodieselFoundation.org.
You can listen to Chuck's complete interview with Beth here: Interview with Beth Calabotta