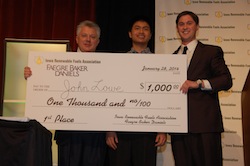 The winners of the Iowa Renewable Fuels Association's (IRFA) 4th Annual "Fuel the Future" Video Contest were announced today during the 8th Annual Iowa Renewable Fuels Summit. The first place award and $1,000 went to John Low of Marion, Iowa. An 11th grader from Linn-Mar High School won for his highly entertaining, creative and informative video, "E15: The Fuel of the Future". Low beat out 26 other entries.
Second place, and winner of a $600 prize, was awarded to Tyler Yates and Dalton Hart of Muscatine, Iowa for their video entitled, "Saving the Planet with Ethanol." Tyler and Dalton are juniors at Muscatine High School.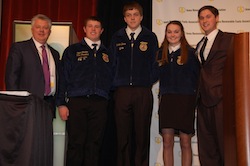 Third place, and winner of a $400 prize, was awarded to Megan Anderson, Trenton Bacus and Tyler Blaudow of Bussey, Iowa for their "Paul Harvey spoof" entitled, "The Farmer Made Biodiesel." Anderson is a senior, while Bacus and Blaudow are juniors at Twin Cedars High School.
"Every year I'm amazed at how creative and informative these student-produced videos are," said IRFA Communications Director T.J. Page. "The IRFA congratulates all of the 'Fuel the Future' winners, as well as each of the Iowa high school students who took on the challenge of entering this year's contest."
IRFA's "Fuel the Future" video contest challenges Iowa high school students to create the best video highlighting the importance and benefits of renewable fuels—such as ethanol and biodiesel—to local communities, Iowa and the nation. This year's contest was sponsored by the law firm of Faegre Baker Daniels LLP.