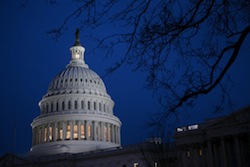 A compromise Farm Bill agreed upon by U.S. Senate and House negotiators will set aside about $881 million in its Energy Title portion. The deal on the $500 billion Agricultural Act of 2014 gained praise from the Agriculture Energy Coalition (AgEC), a consortium of organizations and companies representing a broad spectrum of renewable energy, energy efficiency and bioproducts stakeholders.
Lloyd Ritter, co-director of the AgEC, said, "Today's conference report will continue the Farm Bill's support for economic growth and development in rural America. Renewable energy and energy efficiency programs support new manufacturing and stable, well-paying jobs. Expansion of the programs will enable renewable chemical technologies to create new manufacturing opportunities and jobs. These very modest investments make major energy security, economic, and environmental benefits happen across the entire United States.
"The programs help grow the rural economy by opening access to critical project capital, ensuring that investments continue to be made in agriculture energy development."
Some of the benefactors from this legislation include the Biomass Crop Assistance Program, partnering with hundreds of farmers across the country to develop sustainable new biofuels; the Biorefinery Assistance Program, supporting advanced biofuels by assisting U.S. companies secure more than $450 million in private capital for innovative advanced biofuel projects; and the Renewable Energy for America Program (REAP) that helps support renewable energy jobs in rural parts of the country.
The bill must still pass the full House and Senate, but the bipartisan compromise is seen as very positive step toward full passage.