As the Midwest is hit with yet another Arctic blast, experts at the Energy Information Administration (EIA) say the cold and logistics problems are making prices of propane spike. This story from the EIA says part of the problem includes no chance to recover inventories after this fall's harvest.
In the Midwest, propane is used for both drying agricultural crops and heating homes and businesses. For corn to be stored, it first needs to be dried, using large-scale heaters that often use propane for fuel. A late-2013 corn harvest, along with cold, wet weather, resulted in strong demand for propane at distribution terminals in the Upper Midwest. For the week ending November 1, 2013, Midwest propane inventories dropped more than 2 million barrels, the largest single-week stock draw in any November since 1993. This demand prompted a strong upward price response, and propane at Conway moved to a 3-cent-per-gallon (gal) premium over Mont Belvieu during the first week of November, the first such premium in almost three years.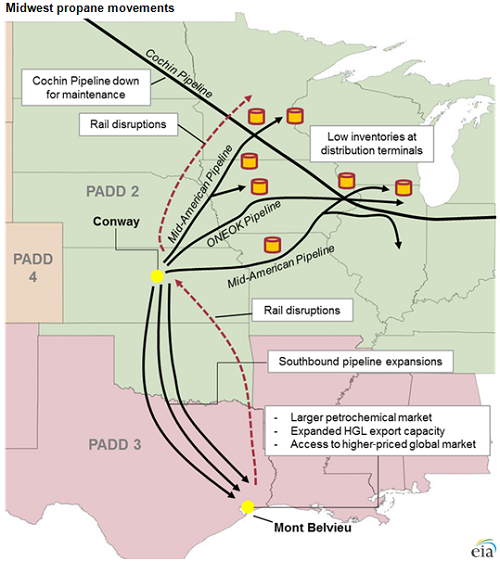 After the harvest, logistical problems prevented the region from fully replenishing inventories before the onset of winter. The Upper Midwest is supplied with propane by pipelines (Mid-American and ONEOK) flowing north from Conway (home to 30% of the nation's propane storage), the Cochin Pipeline coming south from Canada, and from rail deliveries. The Cochin Pipeline, which delivers ethane and propane from Canada to the Upper Midwest, was out of service for maintenance from late November to December 20 and unavailable to deliver supplies. Rail transportation disruptions, both due to weather and other factors, curtailed deliveries from Mont Belvieu and Conway, as well as from Canada.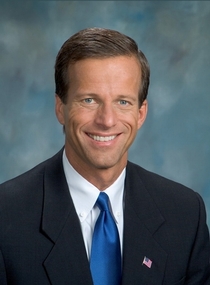 The pinch that Midwesterners, especially farmers, are feeling prompted Republican Senator John Thune of South Dakota, the Ranking Member of the Senate Commerce, Science, and Transportation Committee, to send a letter to the Federal Motor Carrier Safety Administration (FMCSA) asking for a lift on limits for drivers transporting propane in the Western region.
"Regional supply disruptions, high demand from a wet corn harvest, and the extreme cold temperatures this winter have strained propane and home heating oil supplies throughout the region," said Thune. "The brutally cold temperatures in South Dakota, and across the region, this winter are a challenge for families and businesses, and a tight propane market only increases the dangerous conditions residents are facing. I will continue working with all relevant federal agencies to address this ongoing situation."
FMCSA made similar declarations for propane distribution centers in the Southern, Eastern, and Midwestern areas the administration controls.