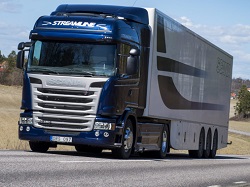 An Austrian trucking company has bought a fleet of trucks able to use up to 100 percent biodiesel. This news release from truckmaker Scania says it has delivered 220 biodiesel-powered trucks to Austrian haulier Nothegger Transport.
"This is both an exciting and prestigious order," says Christopher Podgorski, Senior Vice President Trucks at Scania. "Scania has invested more than any other manu­facturer in being able to offer both breadth and depth in its range of Euro 6 engines. This is clear evidence that we have correctly assessed customers' needs."
Nothegger has ordered the 2-axle tractors, intended primarily for long-haulage, as well as 3-axle rigid trucks. The company has also signed a Scania repair and main­tenance contract for all of the 220 vehicles ordered.
In Austria, there is a tax incentive to use biodiesel as well as lower prices at the filling stations. Despite the somewhat lower energy content in biodiesel and increased maintenance requirements, Nothegger expects to be able to cut its operating costs. At a total distance driven of 150,000 kilometres per year, the annual saving could be about EUR 4,000 per truck.
The announcement comes on the heel's of Scania introducing its 13-litre 450 hp engine, which meets Euro 6 standard for biodiesel operation.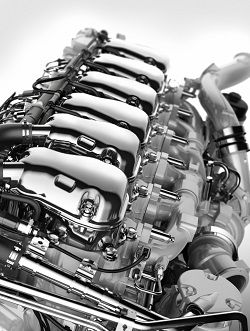 Scania is continuing the roll-out of its Euro 6-certified engines intended for use with 100-percent biodiesel. In October 2013, Scania intro­duced its robust five-cylinder, 9-litre biodiesel engine in two different output versions, 320 hp and 360 hp. These are now being followed by the 13-litre, inline six engine that will be available both in 450 hp and 490 hp versions with SCR and EGR aftertreatment systems.
The basic model of the 450 horsepower engine offers 2,350 Nm of torque from 1,000 r/min, while the 490 produces a massive 2,550 Nm from 1,000 r/min up to 1,300 r/min. It is worth noting that output declines a maximum of just 8 percent when the engines are run on 100 percent biodiesel fuel (due to the lower energy content in biodiesel).