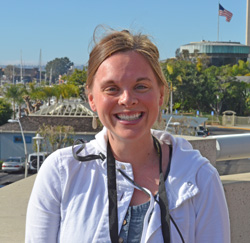 Rhesa Ledbetter from Utah State University was one of the students who attended the 2014 National Biodiesel Conference. Chuck caught up with her for an interview and she explains her research in algae biodiesel fuel.
Rhesa finished her master's in micro-biology and then decided she wanted to do a project that was really applied. To her biodiesel products seemed to make a lot of sense and something that would work well with her background.
"Our group at Utah State is focusing on biodiesel produced from algae. We have characterized a lot of properties and we also have a diesel streamliner we have been able to run out on the salt flats. It's been great for me to be able to learn so much about a topic that I wasn't really familiar with. Being able to interface with all these experts has been invaluable. I think collaborations will develop from this event will end up enhancing our research."
In the future Rhesa and her team look to continue seeking more efficient ways to produce the fuel and promoting all the great traits biodiesel has.
Earlier this year Joanna did a post on the Aggie A-Salt Streamliner Rhesa mentioned. You can find that post here.