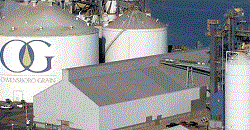 A fifth-generation family-owned soybean processor and biodiesel maker in Kentucky is starting a new glycerin refinery. This story from Soyatech.com says the Owensboro Grain Company is putting in its USP Kosher Certified Glycerin Refinery right next to its biodiesel and vegetable oil operation on the banks of the Ohio River in western Kentucky.
The new glycerin refinery will refine virgin soy-based crude glycerin produced at the Biodiesel plant, and will meet the USP specification.
"We are excited and proud of our new facility. Our goal is to always not only meet, but exceed the customers' expectations "said John Wright, Executive Vice-President.
The new facility will operate 24hours/7 days per week and will offer 24 hours around the clock loading. The new plant, located on the CSX rail line and also along the shoreline of the Ohio River, will have the capabilities of loading out refined glycerin by truck, rail or barge.
The biodiesel plant cranks out 45 million gallons of the green fuel each year.