Consumers in Ohio can now choose E15 at the pump. American Freedom Energy has become the first retailer in the state to offer the fuel blend to drivers with 2001 or newer vehicles. The station is located at S 430 St. Route 109, Liberty Center, Ohio 43532.
"Being a leader and not a follower, we believe in consumer choice," said Glenn Badenhop, President and CEO of American Freedom Energy. "Offering higher ethanol blends like E15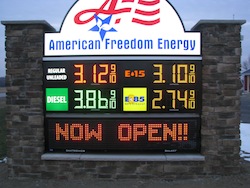 sets us apart from other stations, but also helps our local economies, helps the environment, and helps reduce our addiction to foreign oil. Alternative fuels are the future."
Along with E15 for 2001 and newer vehicles American Freedom Energy will offer E85, E40, E30, and E20 for Flex Fuel vehicles (FFVs) at their Liberty Center station. In doing so, American Freedom Energy also joins more than 3,000 retailers throughout the nation who have the infrastructure available to provide motorists with a choice of various ethanol blends. There are currently 14 states that offer E15.
Growth Energy CEO Tom Buis added, "Seeing retail leaders like Freedom Energy, MAPCO Express, Murphy Oil and Minnoco offering E15 continues to validate that there is a viable market for the new fuel. When given the choice, consumers will seek the fuel that costs less, improves the performance of their vehicles and is better for our environment. The increase in E15 availability is quite impressive."