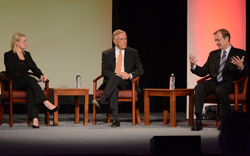 Two former members of Congress talked about attacks on the Renewable Fuel Standard at the National Biodiesel Conference this week in San Diego.
Former Democrat Senator Byron Dorgan of North Dakota, now a DC policy advisory, says the EPA proposal to lower RFS volume obligations this year is inexplicable. "The Obama Administration has always supported renewable fuels," he said during a general session policy panel. "They will, I assume, say that these mandates support renewable fuels. But they know that these mandates are below what they should be, they have to be adjusted."
Former Congressman Kenny Hulshof of Missouri, a Republican and founder of the Missouri energy initiative, agrees it is inexplicable, but reasoned that backlash against ethanol and the 2012 drought played a role in the proposal. "I think the EPA came under some very intense political scrutiny, that's when you saw a lot of bills being introduced to repeal the RFS," he said.
Dorgan thinks it's unlikely Congress will repeal the RFS, the first version of which he helped write in 2005. "I think that would be a horrible mistake. Fortunately, the Congress can't agree on anything," said the former senator, adding that the president would veto the bill if they tried.
Both Dorgan and Hulshof believe Congress will eventually extend the biodiesel tax incentive which expired at the end of 2013.
You can listen to the session, moderated by National Biodiesel Board Vice President of Federal Affairs Anne Steckel, here: Policy Climate Session