Cape Wind has again defeated the efforts of its opponents to block the country's first offshore wind farm. In a historic decision, the U.S. Court of Appeals for the District of Columbia Circuit upheld the FAA's approval of the Cape Wind project, rejecting every argument that had been advanced by the project's opponents.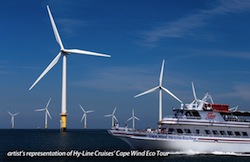 "The Alliance to Protect Nantucket Sound, the Town of Barnstable and their financial backer-coal billionaire Bill Koch– have failed yet again in their continuing campaign to use the courts to delay the financing of Cape Wind," said Cape Wind Communications Director Mark Rodgers. "The court's definitive decision is an important legal victory that brings America that much closer to launching its offshore wind industry, a keystone in America's renewable energy future."
This decision takes on even greater importance because this was the same court that had previously provided project opponents their sole and temporary relief, opponents have lost all 12 legal decisions in other courts.
On October 28, 2011 this Court had remanded the FAA's third Determination of No Hazard back to the FAA to better explain the rationale for its decision. On February 9, 2012, the FAA issued a Public Notice of its reinstated project review, indicating its conclusion that "None of the turbines would have an adverse effect on the use of air navigation facilities or navigable airspace."
On August 15, 2012 the FAA issued its 4th DNH which project opponents challenged, the Alliance to Protect Nantucket Sound pronounced confidence their challenge would be successful. However, this is the case decided again in favor of the FAA and Cape Wind.