Cellulosic and advanced biofuels producers are very concerned that the EPA proposal to lower 2014 Renewable Fuel Standard (RFS) targets will have a chilling effect on investment in the next generation of renewable fuels.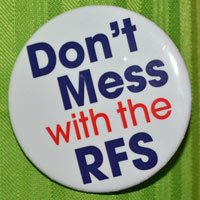 "Frankly, we have decided that we are placing a hold on our evaluations of future investment in bioenergy in the United States until we see what the final rule is and what impact it does have on the market," said Chris Standlee with Abengoa Bioenergy during a media call today organized by the Renewable Fuels Association (RFA). Standlee added that the proposal has forced them to reconsider their business plan to license technology to other producers and look for "potential investments in other countries."
Iogen Corporation president and CEO Brian Foody said RFS is the single most important driver of investment in advanced biofuels. "Cellulosic biofuel has the promise to deliver tens of billions of gallons of ethanol to the United States, but there needs to be a market for that," he said. Iogen is building a cellulosic plant in Brazil using sugarcane bagasse and they are "actively seeking to develop projects in America" but that will depend on the future of the RFS.
Delayne Johnson, General Manager of the farmer-owned Quad County Corn Processors ethanol plant which broke ground in July on a bolt-on cellulosic ethanol technology, said that changing the RFS at this point is "going to create uncertainty" for other plants looking at adopting that technology. "We're hopeful the EPA will consider getting back on course," he said.
Listen to comments from Standlee, Foody, and Johnson, as well as RFA president and CEO Bob Dinneen and Advanced Ethanol Council Executive Director Brooke Coleman. RFS impact on Advanced Biofuels media call Media questions and answers