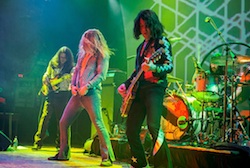 Led Zepplin 2 will be performing at the 19th Annual Ethanol Conference (NEC) on Tuesday, February 18, 2014 in Orlando Florida. The cover band includes Paul Kamp, an active participant in the biofuels industry. The band recently toured in New York and Boston with upcoming performances in Texas and Florida.
"Led Zeppelin was one of the best rock and roll bands of all time," said Bob Dinneen, President and CEO of the Renewable Fuels Association (RFA) who hosts the NEC. "Much like the titles of legendary Led Zeppelin songs, there will always be 'Good Times, Bad Times' but no matter what the Renewable Fuels Association will continue to 'Ramble On' fighting for consumer choice and access to low-cost, renewable fuel."
Dinneen continued, "Big Oil's attempts to thwart our efforts to increase America's energy independence and send us 'Over the Hills and Far Away' leaves me 'Sick Again' and at times it feels like we are being 'Trampled Underfoot' by the petroleum industry. But mark my words Big Oil, 'Your Time is Gonna Come' because the value-added benefits of ethanol are paving the 'Stairway to Heaven.' 'The Song Remains the Same' don't mess with the RFS!"
Led Zeppelin 2 received wide praise for their first rate performances.
Jim Derogatis of NPR and the Chicago Sun-Times raved, "As good a Zep as Zep ever did back in the day." While The Dallas Observer praised, "The closest thing to seeing the real Led Zeppelin."