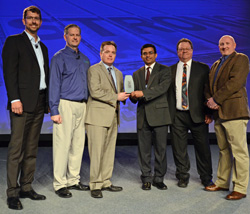 The first of this year's Eye on Biodiesel Awards was presented this morning for Innovation. It was presented to General Motors and the B20-Approved Chevrolet Cruze.

General Motors continues to be a leading biodiesel supporter among OEM's. This year the company took another step forward introducing the 2014 Chevrolet Cruze Clean Turbo Diesel – the first B20-approved light-duty passenger sedan. This new technology diesel engine powered by ultra-low sulfur biodiesel blends provides tailpipe emissions as clean as or cleaner than natural gas and gasoline, while providing superior fuel economy, horsepower and durability. The Chevy Cruze is the cleanest diesel passenger car model ever produced by General Motors and with the use of clean, renewable B20, it's also now the greenest.

Accepting the award was Shailesh Lopes, Sr. Fuels Engineer, GM Powertrain, Fuels Group. Making comments was Chris Farmer, Manager of Aftersales, Chevrolet Southern California.
You can listen to comments from Chris here: Chris Farmer Remarks